U.S. Politics
Rep. Tulsi Gabbard zigs when Democratic contenders zag on campaign issues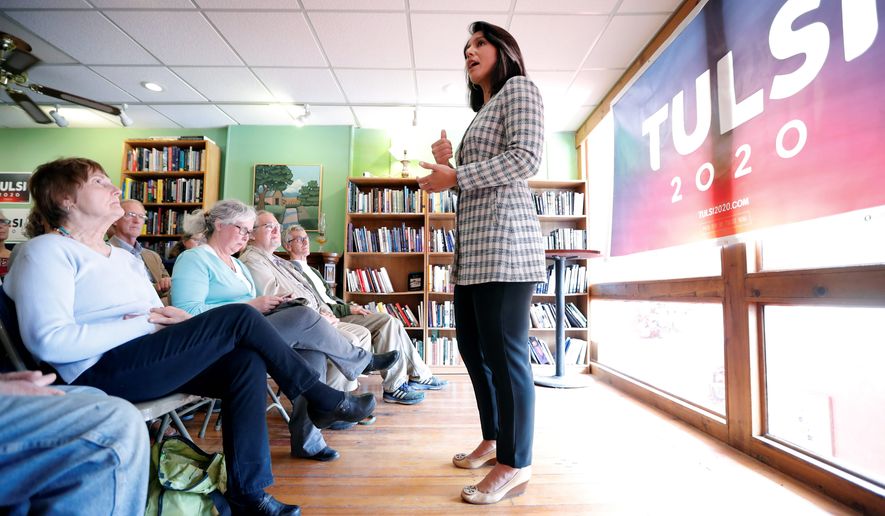 Rep. Tulsi Gabbard is trying to zig while the rest of the Democrats' 2020 presidential field zags, staking out some unique positions on issues ranging from Syria to WikiLeaks as she makes foreign policy the centerpiece of her underdog campaign.
The Hawaii Democrat was one of the first high-profile figures to announce she was exploring a candidacy and has struggled for attention and support.
Yet she's carving out space as a unique voice, willing to challenge conventional wisdom on thorny questions such as the criminal charges against WikiLeaks founder Julian Assange.
While most politicians call him everything from a scoundrel to a traitor, Ms. Gabbard casts him as a journalist and suggested prosecuting him could have grave implications for the broader media.
She also has sounded a dissonant note domestically, expressing relief in the days after the Justice Department announced President Trump had been cleared of a Russian conspiracy to subvert the 2016 election and wouldn't face obstruction of justice charges, either.
She called that outcome a "good thing."
"Tulsi Gabbard looks very different from the other young progressive candidates who are running for president," said Colin Moore, director of the Public Policy Center at the University of Hawaii Manoa. "She has some traction on these issues and in a race where there might not be a lot of foreign policy talk, she is the one Democrat talking about foreign policy."
It was more of the same Wednesday when the 38-year-old slammed Mr. Trump for vetoing a congressional resolution calling for an end to U.S. assistance for a Saudi-led coalition intervening in the civil war in Yemen.
She released an online video saying the president had turned "our great country into the prostitute of Saudi Arabia."
"By vetoing the war powers resolution Trump has again proven that he is the servant of Saudi Arabia, the theocratic dictatorship that spends billions of dollars every single year spreading the most extreme and intolerant form of Islam around the world — the very same ideology that motivates al Qaeda and other jihadists," she said.
For all her moves, the four-term congresswoman barely registers in polls, which at this point are mostly a reflection of name recognition.
"There's not much precedent for a House member to win a presidential nomination, let alone the presidency," said Kyle Kondik, of the University of Virginia's Center for Politics. "Gabbard is not a household name and lags several other candidates in fundraising."
She posted about $2 million in contributions raised over the first three months this year, putting her far behind the likes of former House colleague Beto O'Rourke and Sens. Bernard Sanders and Kamala Harris.
She has, however, received enough individual donations to qualify for the first Democratic debate in June in Miami, where she will have the chance to introduce herself to voters and test whether her non-traditional approach sells.
"It is tough to stick her into our usual ideology boxes in American politics," Mr. Moore said. "In some ways she looks like a pretty classic liberal progressive and in other ways on her foreign policy stances, and in other areas like gun control, she has not taken strictly liberal positions."
She has faced intense scrutiny over her evolution on LGBTQ rights, including her previous support for the Alliance for Traditional Marriage, which her father ran and which fought against gay rights in Hawaii.
She apologized this year in an online video, saying in the "past I said and believed things that were wrong."
Criticism also followed her in 2015 after she backed more checks on Syrian refugees coming into the United States, and in 2017 after she traveled to Damascus to meet with Syrian President Bashar al-Assad.
Ms. Gabbard recently left the hosts of MSNBC's "Morning Joe" looking dumbfounded after she refused to say the Syrian leader was an enemy of the U.S. She said, "Syria does not pose a direct threat" to the nation, and she refused to fully embrace claims Assad used chemical weapons on his own people.
She said the public was sold misinformation that led to the invasion of Iraq and she wants rock solid evidence before troops are deployed anywhere in the world.
"I'm interested in the truth," she said.
---